Today, I heard on CNN NEWS about a study researching a gender gap in financial wisdom. According to this study, women look for help and advice when they are already in financial troubles while men seek out financial advisors to avoid those troubles and plan for the future. Men follow the developments on the stock markets at a higher rate than women and men also are more likely than women  to pay off their credit card bills in full every month.  
It seems that many women could really benefit from the services of a Money (Life ) coach.
The study was done by Financial Finesse, a provider of financial education programs. Read more details  .
Christiane is Life Coach and teaches Psychology at a Community College in Massachusetts. Her website is www.coach4u.net. Sign up for her newsletter.
---
Although we are already in June, it's not too late for many regions to start a vegetable garden and save some bucks. Garden centers still offer inexpensive lettuce and young tomato, pepper, squash and pumpkin plants. You might even get now some good sale offers.
If you are inexperienced with gardening and therefore prefer to start small, you may want to choose only one kind.  For gardening rookies, I recommend tomatoes. Tomatoes are quite pricey on local farmers markets, however they don't require care by someone with a green thumb.  Provide  good soil, lots of sun, water regularly and stake when the plants are getting tall, and you will harvest several pounds of fresh, sweet and juicy red fruits from each plant.
In regards to fruits, start planning for next year: Plant raspberries and blackberries, which will bear fruits next year. Ask in your garden center what types of fruits may grow in your region. You may be surprised about the possibilities. When we  planted a peach tree in our garden  near Boston, we were concerned that it might not survive the first winter. Well, it did and every year we get to enjoy more peaches. Last year we harvested about 50 pounds Рat farmers market prices of almost $ 3 per pound a good return of investment:
Christiane is Life Coach and enthusiastic gardener. Her website is www.coach4u.net. Sign up for her newsletter.
---
ScienceDaily (May 16, 2009) People looking for a good job at a good salary could find their intelligence may not be the only trait that puts them at the top of the pay scale, according to researchers. A new study finds attractiveness, along with confidence, may help job-seekers stand out to employers. …¬†http://www.sciencedaily.com/releases/2009/05/090514130641.htm">read full article
---
Could you buy enough groceries for an entire month with just $ 176? A CNN reporter is now trying to do that because he wants to find out how people live, who are depending on food stamps.
According to the USDA, there are 31 million people in the U.S. that rely on food stamps every month.  The reporter says that in his home state Louisiana,  one out of every six people is on food stamps.
$ 176 is the most a single person can qualify for each month, and that comes to about $ 6.28 a day in a month with fewer days like February.
CNN reporter Sean Calleb is writing a blog about his experiences.
Posted by Christiane. Christiane is a Life and Career Coach in Massachusetts. Her website is www.coach4u.net
---
Would you like to pay less without clipping newspaper coupons? How about downloading coupons from the Internet? If you know exactly what you want to buy, it's the easiest way to get the coupons you need. Billshrink.com lists the top 12 Coupon & Discount websites.
---
In a few months it's spring again and in spite of the dismal housing market, many home owners will try to sell their house. Now it's the right time for home improvement projects that will add value to the house. However, not all upgrades have the same rate of return. For some projects, like a major kitchen remodel, you will spend probably more than you can add as value to your house. On the other hand,  small renovations projects which you can do yourself could result in the biggest payback. Here are a few tips how to make your house more attractive without spending a fortune:
Kitchen: Today, people want kitchens that look open and spacious. Light colors on walls and floor are therefore important. It's not necessary to have granite countertops, but when you are showing the house to prospective buyers, remove all small appliances, cookie jars and whatever else is standing on the countertops. Empty countertops will make your kitchen look larger. Make sure that the lighting is perfect, replace broken light bulbs (also inside the fridge and/or the oven) and perhaps install new lighting. Clean the kitchen window, the fridge (inside too, just in case), remove all magnets and notes from the fridge, and clean the stove, microwave and oven, so that everything shines and sparkles. There are a few other small things you can do to enhance the look of the room. For example, replacing the drawer pulls and the door knobs can make a huge difference without costing you too much money. Check the faucet, too and consider replacing it with a modern looking faucet.

Bathroom: Same as in the kitchen, make sure that the shower, bathtub, toilet and sink are sparkling clean.  No leaky faucets or running toilets! If you can't get rid of stains, re-glaze the bathtub. Consider replacing old fixtures and repaint walls in light colors. If possible, install floor tiles and modernize towel racks. Buy a new shower curtain. And don't forget: When you are showing the house, move all your personal belongings out of sight.

Living, Family and Bedrooms: Fresh paint or new wallpaper will make your entire house look new. Choose neutral colors. Remove old carpets. Wall to wall carpeting is "out". Instead, install wood floor or Рless cost intensive Рlaminate or cork floor. In the bedrooms, don't neglect the closets: Put in new shelves and repaint closets walls.

Roof: Most prospective buyers will ask you about the roof. Therefore, make sure it's fixed and there are no leaks.

Siding and window replacement and new shutters: These are rather expensive upgrades, but experts say, that homeowners have here the highest chance to recoup the costs. In addition, your house will look like new, which will improve the curb appeal.  If you don't want to replace siding and windows, consider at least new painting and wash the windows and shutters.

Landscaping: Speaking of curb appeal, prune bushes and trees, before you put your house on the market. Repair the driveway. A new coating can work wonders. Plant flowers, invest in lawn care and upgrade outdoor lighting.
When our neighbors put their house on the market, they had spent a lot of money for new siding, windows and flooring inside the house. They had repainted the walls and bought a new entrance door. In spite of all these upgrades, on open house day many people only drove by without stopping. Reason: My neighbors had done nothing about the overgrown shrubs and had also left the old lamp on its rusty, crooked pole at the bottom of the driveway untouched. Their house was more than three months on the market and sold for much less than they had expected. Therefore, don't underestimate the importance of curb appeal!
Christiane is a professional Life and Career Coach and psychologist.  Her website is www.coach4u.net
---
If you purchase your christmas cards, decoration and wrapping paper for 2009 now , you will enjoy huge savings. Visiting several stores, I found savings between 50% to 80%. A box of christmas cards that normally costs $10 can be purchased now for $ 2.50. And if you don't mind eating Christmas candy in January, stock up on those for a fraction of the original price. I also bought today the first gifts for upcoming birthdays and other events: a barbeque thermometer for $ 2.50 and a red velvet table runner, which my mom will love, for $ 4.50.
---
Did you already bake cookies, and made jam ? Are you out of ideas what else to give during the holiday season?  Here a few gifts that won't cost you a fortune:
 Do you like to cook and have great recipes?
You could buy a nice notebook or folder, and create a personalized recipe book for a dear friend or family member.
Give a coupon for a five course dinner at your house – or
Promise to cook for an event at their house.
Buy ingredients for a not-your-every-day family meal and add your special recipe.
For avid gardeners:
Give a coupon or gift certificate for a plant, seeds, or fruits from your garden. Add a picture, if you have.
If you have seeds from last summer, purchase a pretty box or bag and fill it with seeds and planting instructions.
Give your time and experience: Friends or colleagues without green thumb will appreciate a coupon for "garden consulting" Рor
Give a certificate for "spring cleaning"
Do you need a gift for a couple with young children?
Give a coupon for x number of babysitting nights
Invite the kids for a weekend in your house
Offer your time for help with afternoon activities
Organize a party for all the kids of your friends (so that they can spend some grown-up time together)
Do you have an elderly loved-one, friend or neighbor?
Give the gift of your time by giving them a coupon for help with shopping,  rides to medical appointments or a day out in the country.
Christiane is a professional life coach with private practice in Massachusetts. She specializes on helping people on realizing their goals and putting them into action.
---
What is Christmas morning without a beautifully decorated tree?
However, this year more people may go without a tree. In financially difficult times the expense of a tree can be too much for a tight holiday budget. Christmas tree growers are already reporting a decline in sales as buyers cut back on spending.
Artificial trees cost less over the years; but for many people they are no match to a natural tree.
Two ways to save money when buying a natural tree are:
'ÄĘ Buy a smaller tree
'ÄĘ Purchase your tree at a "Cut your own tree" farm
The National Christmas Tree Association provides on their website tips for selecting the best tree.
To find a Christmas Tree farm in your vicinity go to christmas-tree.com  or pick your own christmas tree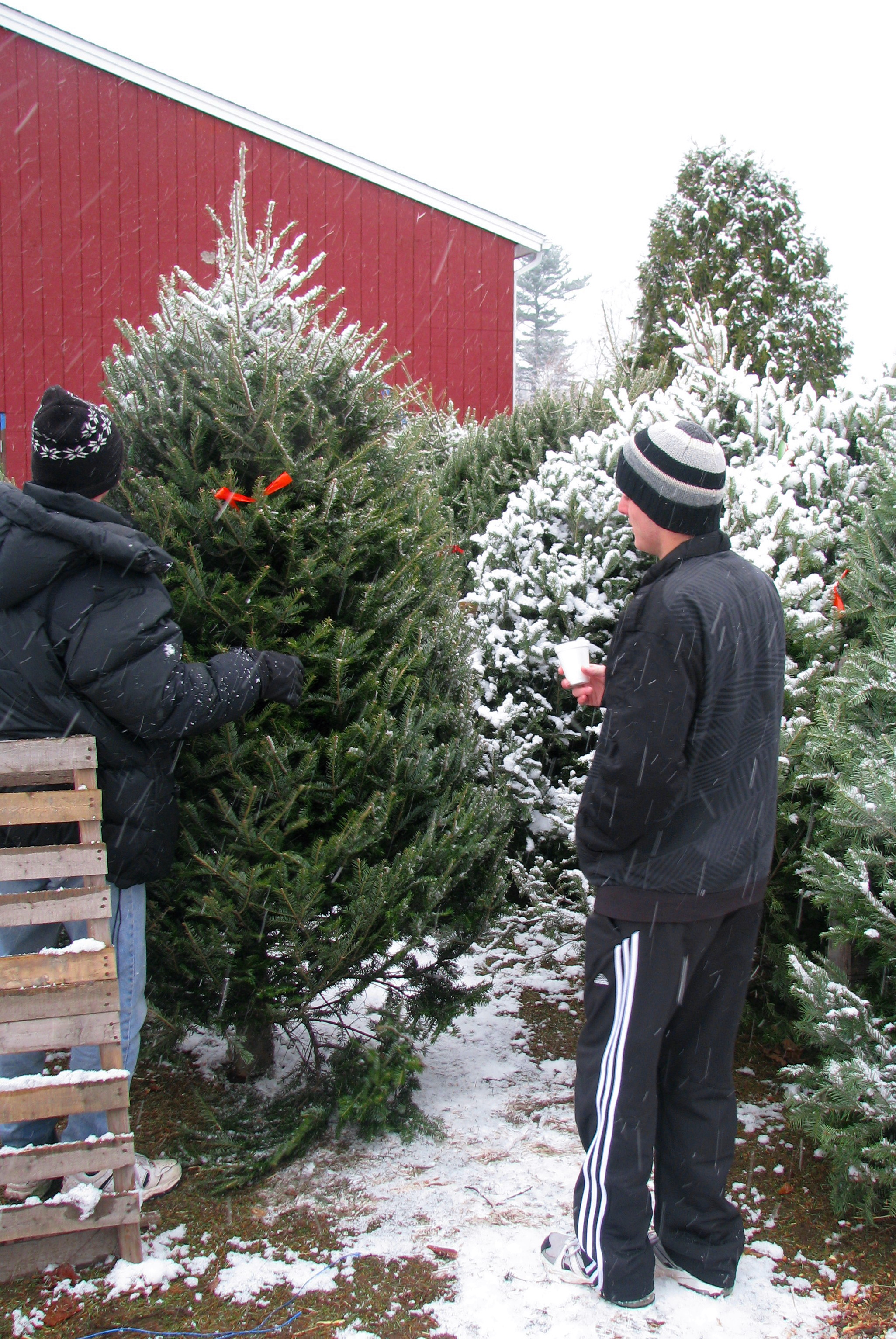 ---
Despite lower cost for gas , food prices are forecasted to go further up in 2009. Consumers can expect higher prices particularly for meat and poultry. In total, the Agriculture Departments expects food prices to climb about 4 percent in 2009, compared to an increase between 5 to 6 percent in 2008.
These are bad news for consumers.  But with some planning ahead, it's possible to at least soften the blow. In the days after Thanksgiving and again after christmas, there will be like every year many sales and special offers. Consumers are good advised to use these sales and stock up on meat. Why not buy a fresh turkey next week and freeze it?
---